Hunza is beautiful no matter what time of year you visit but fall is exceptionally ethereal. In Hunza, you can have travel adventures, cultural excursions, and culinary experiences. The valley provides a myriad of colours and views for days, nowhere is more picturesque than Hunza in any other season. 
Best time to visit Hunza:
The best time to plan a tour for Hunza is from April to November, during which fall can be observed from 1st Oct to 30th Nov. People of all ages mostly visit Hunza due to its pleasant weather. People come to Hunza by joining private/customized tours, honeymoon trips or group tours organized by travel agencies or by themselves. The hospital people of Hunza welcome everyone to this Heaven on earth. 
For by-road options usually, a minimum 5 days tour from Islamabad / Lahore or a 10 days tour package from Karachi to Hunza is offered by most of the travel agencies, which is preferred by most people for vacation spending and is good enough to explore Hunza. 
How to reach Hunza:
You can also land in Hunza by air, flights are available for Gilgit from Karachi, Lahore and Islamabad. You can easily reach from Gilgit airport to the Hunza valley. The distance from Gilgit airport to Aliabad-Nagar valley is about 92 kilometres, approximately 1 hour and 54 minutes.
The total distance from Islamabad to Hunza is 561 kilometers, about 14-15 hours. If you are coming from Islamabad, it's better to stay in Naran or Chilas to avoid a hectic long route travelling. The distance from Islamabad to Naran is approximately 247 kilometers. Get yourself refreshed at Naran, enjoy the spell-bonding beauty of Lake Saif-ul-Malook and the next day start heading towards Hunza. The fastest route is via Babusar top the total travel time is approximately 7-8 hours, about a 314-kilometre distance. 
En route from Naran to Hunza valley, the Kunhar river will be your companion, while enjoying scenic views of Batakundi you will reach Besal where you can have breakfast/brunch at the famous Moon restaurant. Although a variety of food is served at this restaurant, the freshwater grilled trout fish is the best one to enjoy.
After Besal the "Lulusar lake" will be waiting for you, the beautiful landscape and the pristine water are good enough to refresh you more. Going ahead towards the Babusar top which is at 13,700ft height from the sea level and travelling for about 1 hour and 18 minutes you will reach Chilas. Here you can have a lunch break and get refreshed. Chilas is a hot place surrounded by high dry mountains as there is much more to see on the way from Chilas, start your journey after a maximum 40-minute break.  Now along the road, the mighty Indus River originating from Himalaya will travel along you all the way. After covering approximately 1 hour and 56 minutes you will reach the most unique place "The three-mountain junction " where the three mighteous mountain ranges The Himalaya, Karakoram and Hindukush meet and is one of the best short-stops for capturing photographs. After approximately 26 minutes of driving, you will see another scenic view its is "The Nanga Parbat Viewpoint" here you can also take some nice memorable clicks.
Moving ahead from this point after crossing 145 kilometers in approximately 2 hours and 48 minutes you will reach Aliabad- Nagar valley of Hunza. At last, the long route ends with a beautiful destination to make your heart feel crazy. 
Take a hotel stay at night in the Hunza valley and enjoy traditional cuisine for dinner to get yourself recharged for the next day's adventures you may dine in for Go-lee, Hareesa, Daodao soup, Chapshuro and Mamtu etc. most famous dishes of Hunzai cuisine ending with Tumoro tea or Rose tea for better digestion.
Famous Places to visit and Things to do:
The next day, wake up early morning and look at the glorious view of Rakaposhi the 27th highest peak in the world, this view will energize you then start your tour to visit the best places in Hunza. Here I am mentioning the most famous places to visit & things to do for new travelers. 
Attabad lake

Passu Glacier/ cones

Hussaini Hanging Bridge

Karimabad

Baltit Fort

Altit Fort

The Khunjerab pass (China Border)

Eagle Nest

Attabad Lake: 
It doesn't get more scenic than Attabad lake of Hunza in Autumn. The icy bright blue water of Attabad lake looks very fascinating against the warmth of the fall foliage beyond. The lake is rated as the top lake in Pakistan because of its spell-bonding beauty.
Boat riding, Jet skiing and capturing pictures in the middle of the lake in the surrounding Karakoram mountains is the best thing to do at Attabad lake.
Passu glacier cones: 
The best time to visit Passu cone Gojal is in the autumn, the brown mountains covered with golden sunshine and leaves falling from the trees truly look like something out of a storybook. The autumn of Hunza is as beautiful as the Cherry blossom season, the valley is a gorgeous destination to see when surrounded by yellow, orange and red leaves.
Hussaini Hanging Bridge:
This bridge is ranked first among the most dangerous bridges in the world to walk across, hanging at a height of 100 ft. The bridge is 635 ft long and made of wooden planks placed at a certain distance. The bridge is used by locals frequently for crossing the river and is a invites brave adventure for tourists.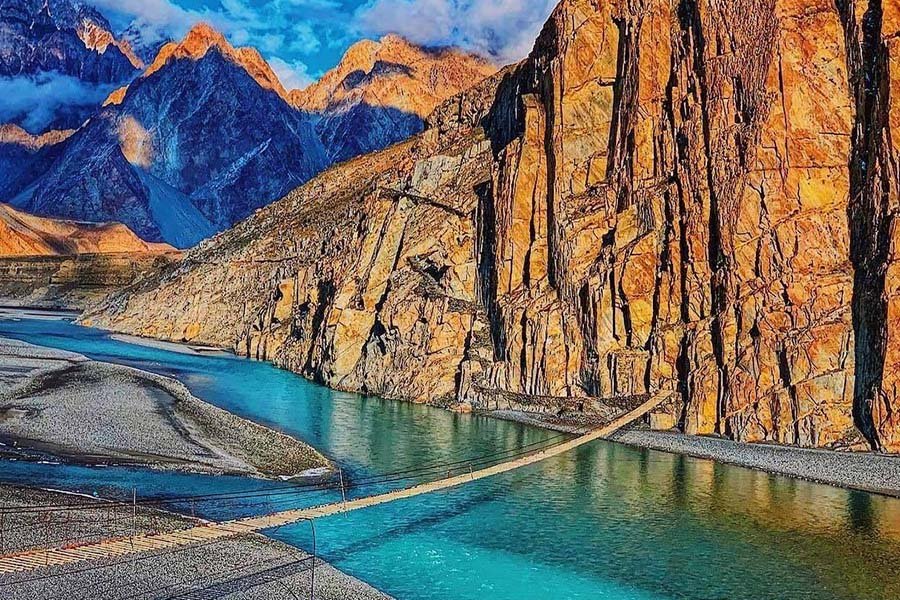 Karimabad:
The capital of Hunza is famous for its history as it has the most ancient look because of its stone-made houses and streets. While walking around the orchids of apples and pears in Karimabad listen carefully to the crunching of leaves under your foot and at night the rustling sounds of leaves will fascinate you more than anything else. Don't forget to visit Cafe' De Hunza and enjoy the appetizing apricot/apple fresh juice and the yummy Walnut cake. Women can also purchase some traditional caps and jewelry from Karimabad Bazar.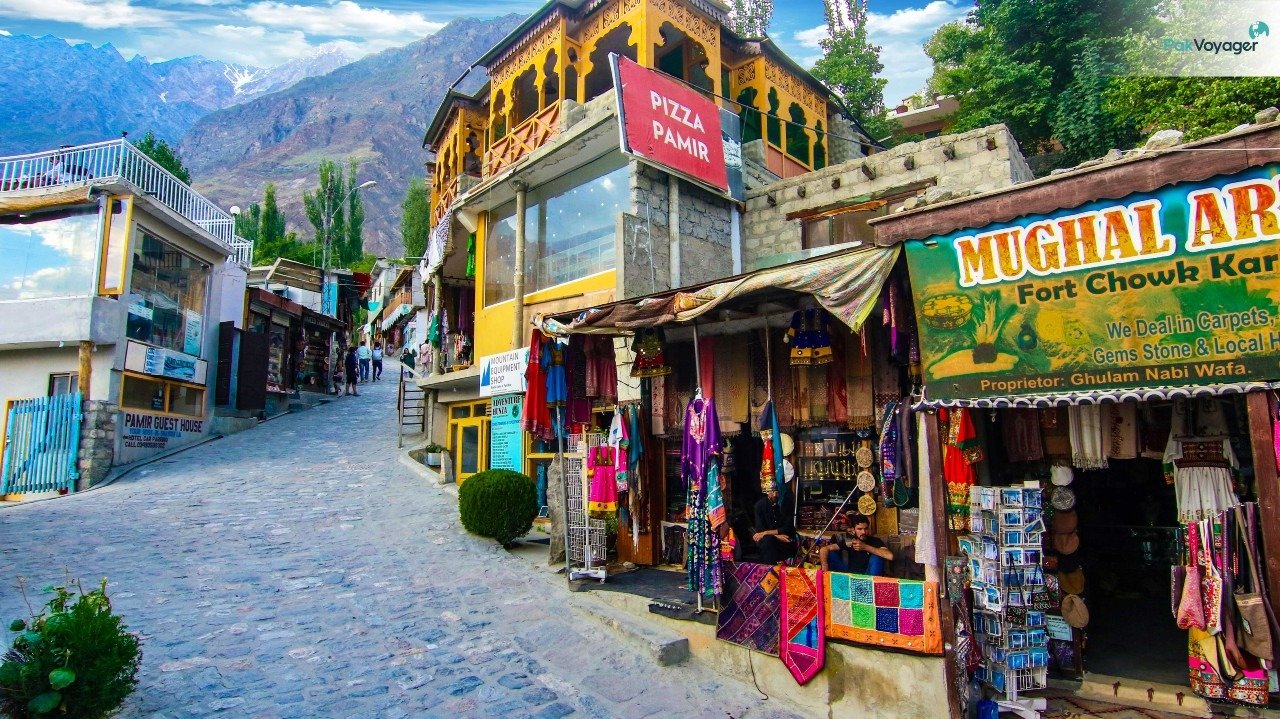 Baltit Fort:
The historical heritage and culture of Hunza can be observed by visiting the Baltit Fort. After trekking for about 25-30 minutes, you will reach the top where the fort is located. The fort became a museum in 1996 and exhibits the artefacts belonging to the Mirs (the prince of Hunza).  As the fall season brings with it a spectrum of color and beauty, the most vibrant colors of orange and red to soothing shades of yellow of the whole valley can be enjoyed from the upper terrace of Baltit fort.
Altit Fort:
Altit fort, around 1100 years old, is the oldest monument in Gilgit Baltistan. It has received the UNESCO Asia Pacific Heritage Award. In autumn the scenic view of valley from Altit fort is beautiful but becomes marvellous when you enjoy a cup of hot coffee at this place. The royal garden at the Altit fort invites you to capture the fall foliage forever in your camera.
Khunjerab Pass (The China border)
The Khunjerab pass commonly known as the China border is the highest international border above 4600 meters sea level. The world's highest ATM of the National bank of Pakistan is installed here. In the autumn season due to heavy snowfall and unbearable cold, maybe you can not enjoy it much, however, it is a worthwhile sight in summers because of the beautiful landscape and wildlife. Snow leopards (at height of mountains), Ibex, mountain goats and marmots can be seen during summers.
Eagle Nest:
Eagle nest is located at the top of Duiker-Hunza valley, at a height of 10,000ft from sea level. The colourful view of the whole Hunza valley with trees loaded with vibrant and warm colours of autumn from the top of the mountain is enough to mesmerize you.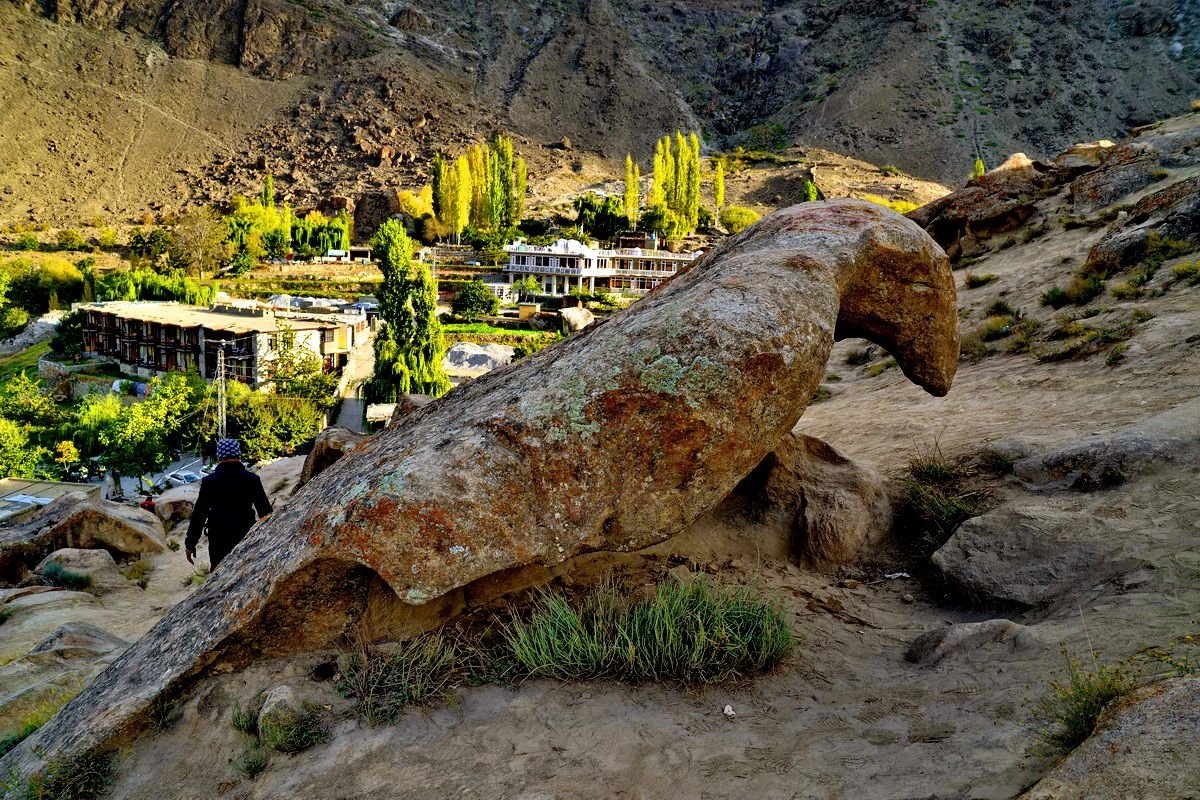 CRUX:
Hunza's allure is easy to appreciate, but difficult to forget. The Hunza tour will be the most memorable tour of your travel diary believe me…. Don't wait for vacations takeout some time to wander and feel nature as if we were meant to stay in one place, we would have roots instead of feet.
I hope this travel guide will help you to plan and enjoy your 5 days tour to Hunza at the best.